April 22, 2021
SUNY Empire Celebrates Earth Day 2021 with a Resilience Garden
Resilience Garden will be a Beacon of Light in Uncertain Times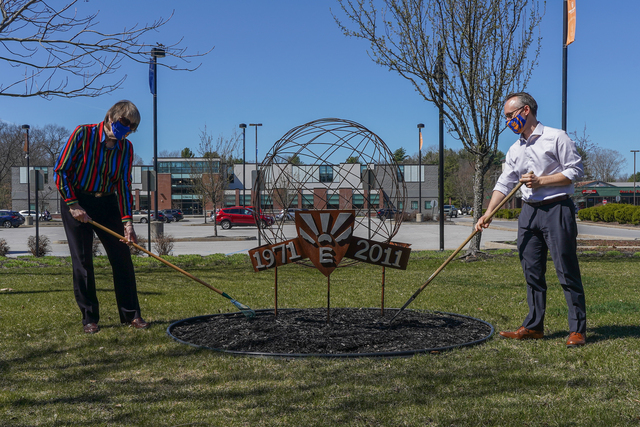 The official theme of Earth Day 2021 is restoration, but SUNY Empire State College staff member, Lisa Johnson, added another element to this year's celebration of our planet, resilience. This spring, hundreds of Asiatic lilies will bloom in front of one of our Saratoga Springs locations at 113 West Avenue. Lilies are emblematic of renewal, community, and endurance. Lisa's heartfelt donation is a testament to SUNY Empire's commitment to these values.
"Over the years, I have built up two Asiatic Lily flower beds to honor meaningful events to me and others I know," Johnson explains. "This past fall, I thinned out the bulbs and ended up with over 400. Given the extraordinary times we were going through, I wanted to donate bulbs to others who might appreciate seeing the beauty of fresh flowers blooming this year as a sign of endurance and new beginnings. The lilies symbolize so much to me, and I wanted to pass them along to others to enjoy."
Johnson said that when she contacted her colleagues at the college, they mentioned that they would like to develop a "Resilience Garden" to honor those fighting COVID-19 and those lost to the pandemic, if she was willing to donate the bulbs to the cause.
"I was so taken aback by the suggestion that tears came to my eyes," she said. "It is not my contribution of the bulbs that matters; it is the college's forethought and desire to develop a garden that celebrates and symbolizes our students' spirit and the entire college community, especially during the 50th anniversary of the college. I feel blessed to be part of this college."
Over the course of the last year, many members of SUNY Empire's community have endured an unprecedented level of challenge. Earth Day 2020 saw our community in the midst of a lockdown, economic insecurity, and a global pandemic. One year later, with the help of Lisa's green thumb and her generosity, we look back and honor the resilience and courage it took for each one of us to move forward. We've seen heroic acts of kindness, the bravery of our frontline workers, and a college community rallying together to take care of its members.
"Our Resilience Garden will be a beautiful reminder each year of the spirit and resolve of our SUNY Empire State College community," said Officer in Charge Nathan Gonyea. "I thank Lisa for her generous donation of lily bulbs, and we thank everyone — students, alumni, faculty, and staff — for their dedication, perseverance, and patience as we navigated and continue to navigate this pandemic. SUNY Empire has been a resilient, compassionate institution for 50 years, and this garden is a beautiful symbol of that resilience and compassion."
Today we salute everyone who has weathered the storm and risen to the challenges this past year has presented. We also remember those who lost their lives or lost loved ones to COVID-19. And we look forward to brighter days and a restorative 2021.
This article was written by Jason Sebastian Russo, student intern in the college's Office of Communications and Marketing. He is a writer, composer, musician, and digital marketer based in Brooklyn. His writing has appeared in Hobart After Dark, Clay Literary and more. He's recorded and toured with bands that include Mercury Rev, Kevin Devine, Hopewell, Pete International Airport, and Guiding Light, which releases a new album in 2021. He's also working on a novel and is currently exploring forms that combine poetry, music, and technology, as well as scoring podcasts and films. Jason is an ESOP student earning his degree in cultural studies with a concentration in communications and media.